Temperatures rise. Facemasking has a sauna effect. UV rays are more aggressive, but outdoor activity is non-negotiable. By May, the cosmetic routine of winter is no longer as effective, and skin requires more attention, demanding more fluid and permeable textures, but just as specialized.
We propose a Spring-Summer Switch protocol to counteract protein glycation and continue to educate the skin to independently produce hyaluronic acid and collagen, key substances to counteract both chrono-aging and photo-aging.
Which strategy? As always, that of self-correction, which rather than compensating the skin with ingredients that are lacking, stimulates it to produce them on its own, through precursors of biological mechanisms, and defends them by preventing their degradation.
Here are the skin-coaches for the protocol that ferries us into the most carefree season of the year:
IN MYCLI PARTNER PHARMACIES YOU CAN EVALUATE HOW TO CUSTOMIZE YOUR PROTOCOL
Detersione Mattina e Sera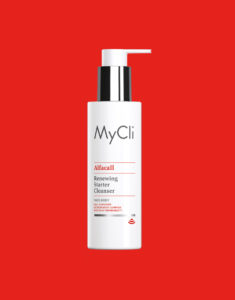 Alfacall Renewing Starter Cleanser, more than a cleanser, it is the direct route to boost the cellular turnover. Apply to clean skin, quickly massage, leave it on for a few minutes, and thoroughly rinse off with warm water. This kind of cleansing already gets rid of sebum and cheratinized cells.
Local application 1
Morning and night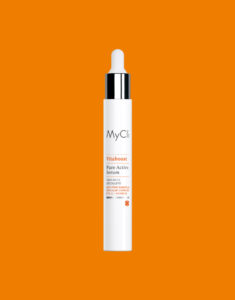 Vitaboost Pure Active Serum, the formula based on lipophilic Vitamin C and hydrophilic Vitamin E that provides energy and brightness. Apply to face, neck, and décolleté, leave it on until fully absorbed. To promote the penetration of its actives and stimulate cutaneous oxygenation, pat the serum onto temples, the eye area jaw using your fingertips.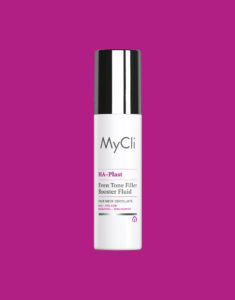 HA-Plast Even Tone Filler Booster Fluid, an ultra-thin carrier that provides the deeper layer of the skin with organic silicium. Apply to face, neck, and décolleté and massage until fully absorbed. Its texture allows the product to quickly penetrate the skin; its velvety after-feel makes it perfect as base for either a foundation with sunscreen or Mycli Cromaclar UV/IR-A.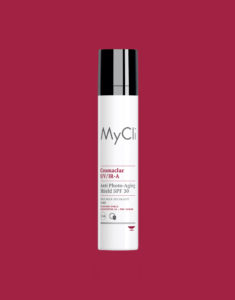 Cromaclar UV/IR-A Schermo Anti Photo-Aging SPF 30, More than a sunscreen, it counteracts UV and infra-red rays while preventing dark spots. Apply to face, neck, décolleté, and hands and leave it on until fully absorbed.
Nutritional supplement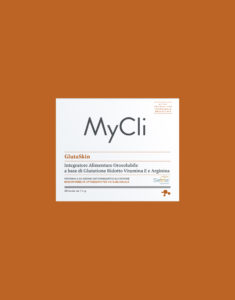 GlutaSkin, the antioxidant product that makes a difference in every system and couteracts pigmentation. To be taken daily, sublingually. This way, this outstanding antioxidant will arrive directly to your cell without passing through your gastrointestinal tract.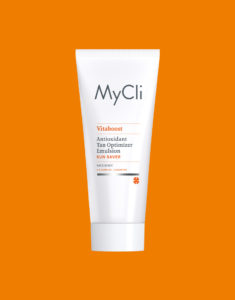 In order to prepare skin to the sun exposition, here you have Vitaboost Sun Saver, Its antioxidant formula promotes a fast tan while diminishing any oxidative stress.